The term "Mobility" encompasses a range of transportation options that includes cars, motorcycles or any vehicular asset that can move people or goods from one point to the other. To show its pivotal role, research tells us that mobility is the lifeblood of any nation's economic progress and that there is a strong correlation between GDP growth and mobility.
Road transport in Nigeria has witnessed a big jump especially in terms of the number of mobility assets from when there were fewer cars on narrow roads, during the colonial era, to the present day, where there are now over 11.4 million vehicles plying Nigerian roads.
According to an Ethiopian Journal of Environmental Studies and Management, published in 2008, there were 6,822 vehicles in Nigeria by 1946, interestingly, the figures spiked up to 20,440 by 1950. The vehicle stock grew gradually from this time up to 1970 when it shot up astronomically. This coincided with a period of rapid urbanization, whereby, after 1970, it became clear that there was going to be an automobile explosion in the cities of Nigeria. This is because vehicle stock rose sharply from a modest 100,268 vehicles in 1970 to 1,009,797 in 1977. Now total vehicle population stands at about 11,547,236 for an economy with an estimated population of 193,392,517 as at 2006 (as per NBS report).
It is an indisputable fact that Nigerians depend mostly on road transport across all sectors of the economy, in achieving both immediate and remote economic goals. Hence, the dependability of vehicles for mobility is of great essence. Effective road transport systems have a direct impact on the livelihood of individuals, as the vehicles must be in good working conditions for the users to make ends meet and achieve something that contributes to their economic prosperity.
Sadly, owing to a number of factors that include age of vehicles, wear and tear, bad roads, improper maintenance or care and accidents, the lifetime value of vehicles have significantly been reduced. Proper and dutiful "Maintenance," seems to be one of the hardest things to achieve in this part of the world, as there have been issues emanating from getting quality repair services for vehicles, workshops with integrity and dedication to customer satisfaction, also not leaving out convenience while getting the vehicles fixed.
Many car owners have had their own fair share of mechanic stories and the anomalies that have bedeviled the Nigerian aftermarket and repair industry many years now. This ugly scenario has seen many users gallivant from one workshop to the other, in search of quality and trust-worthy vehicle repair and maintenance services to enhance their mobility.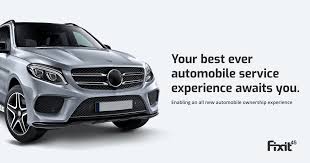 Fixit45's entry into the automotive aftermarket space is predicated on developing solutions that minimize mobility disruptions and makes movement easier, safer and a more pleasing experience for all concerned. As a business, we are enabling and facilitating value creating interactions across stakeholders within the automotive space by leveraging the incredible power of tech to empower individuals, fleet owners, insurance companies, workshop owners, car wash operators, tire shops. Our recent partnership with leading ride-hailing platform, Bolt to enable their drivers access autocare, vehicle repair and maintenance services so as to reduce mobility disruption and drive income optimization is proof of commitment to the vision. When individuals (drivers and occupants) are able to move seamlessly, it'd lead to improving their earnings for drivers while other participants are able to meet up with their set objectives. Overall personal fulfillment and economic empowerment are attendant positives that come out from initiatives such as this. Also, people who had been hitherto been excluded from generating income or having a means of livelihood now have a platform and access to grow. Talk about keeping the lights ON!
Interestingly, Fixit45's sub brand, Xparts, leverages technology to power convenience utilizing three key selling points: exactness – delivering the exact parts that will fit the vehicle; ability to explore large inventory and a wide assortment of stock parts and express delivery of these parts upon request. Delivering and facilitating quality services and automotive products to end-users who have been plagued by "fake" parts or poor service delivery now have a better option.
Clearly better days are ahead for the industry as these platforms will ensure that mobility is no longer hampered.