Technology is changing the way we repair and maintain our cars.
Technology has continued to significantly impact every sector of human activity – from healthcare to communication, education, agriculture, and of course, mobility. While electric vehicles, advanced automobile design, efficiency, and performance are some of the most discussed technological impacts on the transport sector, the overall attentive approach to car repairs and maintenance can hardly go unnoticed.
This is a testament to how technology has changed and is still changing the various elements of auto care.
Routine activities like fault diagnosis, maintenance schedule, auto mechanics visibility have all evolved into flexible and very accessible units, making the entire repair and maintenance process more efficient, economical, and swift for both car owners and auto service providers.
How Technology is changing our approach to Car Repair and Maintenance
Let's look at a few ways tech is changing the game for auto repairs and maintenance:
Maintenance Schedule 
Most automobiles are now designed with a routine maintenance schedule and repair alarm, both activated by mileage traveled and fault detection. Compared to some years ago when car owners had to rely on their intuition and disturbing fault symptoms to know if a vehicle is due for repairs and maintenance, technology has made auto servicing needs more precise and hardly ignorable.
Online Maintenance Scheduling
Previously, the thought of spending an entire day in a busy garage was enough to discourage some automobile owners from taking their car for maintenance. However, we have said bye-bye to those days as anyone can now receive prompt attention when they visit the workshop by simply scheduling for servicing from the comfort of their homes. It goes without saying that people are better able to plan and manage their time while improving the efficiency of technicians.
Auto-diagnosis Tools
Say bye-bye to yeye trial and error. By simply scanning through the car's motherboard computer with a code reader and scanner, onboard faults will be detected, irrespective of how minute it is. This technological advancement is quite pronounced and has reduced dependency on the previously imprecise, unreliable, and time-consuming fault diagnosis. We pride ourselves in using these state-of-the-art auto-diagnostic tools at Fixit45.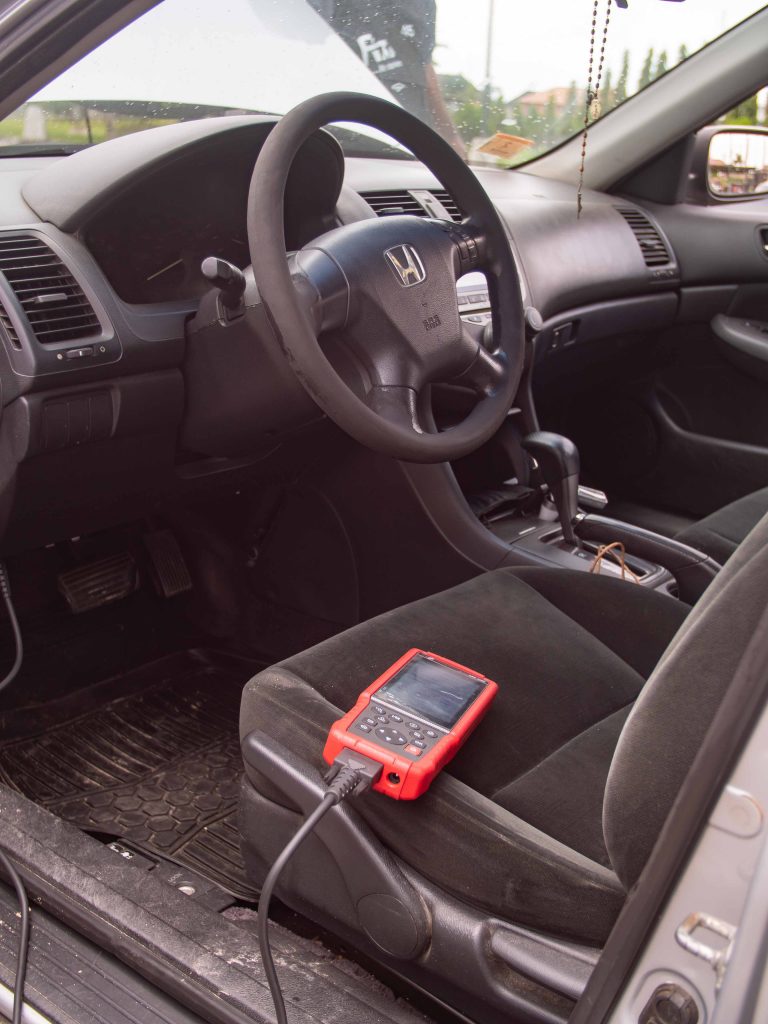 Improved visibility for auto Mechanics and auto care centers
Wahala for who no get personal mechanic wey sure or at his beck and call. Now, imagine the fate of a stranded car owner who hitherto had no solid access to auto mechanics. Today, owners of auto service centers have joined other service providers to capitalize on auto-tech solutions such as the Fixit45 platform to improve their visibility. As such, many car owners now have easy access to the right auto care centers for their auto repair and maintenance needs at the click of a button.
Auto Repair Delivery like Pizza delivery service
Today, growing mobile adoption and the ubiquity of tech has enabled auto repair and maintenance delivery services like the online purchase of spare parts to offer seamless services, communication, and transaction between car owners and service providers. Easy Pizzy, just like Pizza delivery.  
Benefits of these Technology Induced Changes
A quick run through the benefits that technology has bequeathed to auto repairs and maintenance practices must be viewed from the prism of optimization – a regime of consistent/scheduled maintenance sustains a vehicle's efficiency in a manner that improves its overall lifetime value. 
Save time, save money and improve your productivity with a well-maintained car that won't disappoint like Tuface's Amaka. Remember the old adage, a stitch in time saves nine. 
As a car owner, the tech tools that remind you about your due service date or help detect faults as they arise mean that you can't be stranded. Your car ownership experience is better enhanced, and the quality of even your lifestyle is improved. Talk about cruising around town with a spring in your zoom. 
Guaranteed performance of the vehicle is directly proportional to the level of care and attention that it gets by way of repair or maintenance.
Lastly, did you know that simply by giving your car the TLC it deserves, you reduce the chances of emission and other air pollutants that come from smoking cars?
(Read: Net Zero Emissions: How to stop your vehicle from smoking)
In conclusion
Previously, car repairs and maintenance services were often tedious, usually postponed, and in some cases, entirely ignored by car owners. However, just like with everything, technology is changing how we relate and experience car repairs and maintenance. This has significantly contributed to the efficiency, longevity, and safety of the cars on our roads and will likely make a more positive impact if the trend continues.